Clinical Education
Cornea Resources
Cornea Clinical Education
Explore the latest in cornea education by selecting popular terms to the right, or click below to browse all ASCRS cornea educational resources.
Browse All Cornea Resources
The ASCRS Preoperative OSD Algorithm
Ocular surface disease can reduce visual quality and quantity and adversely affect refractive measurements before keratorefractive and phacorefractive surgeries.
To address this, the ASCRS Cornea Clinical Committee developed a new consensus-based practical diagnostic tool, the ASCRS Preoperative OSD Algorithm, to aid surgeons in efficiently diagnosing and treating significant OSD before any form of refractive surgery is performed.
Learn More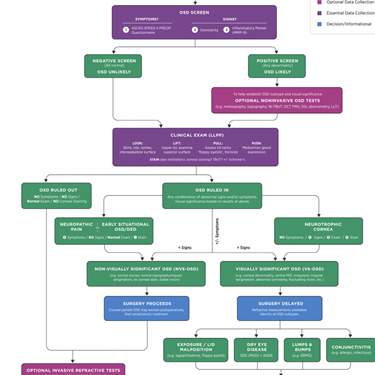 40th Annual Film Festival Cornea Films
View featured cornea films from the 40th ASCRS Film Festival at the 2022 ASCRS Annual Meeting
(2022 ASCRS Annual Meeting physicians registrants only)
Browse All 2022 Films
2022 ASCRS Cornea Day
ASCRS Cornea Day presents discussion on current cornea issues, such as eye banking, reimbursement issues, alternatives to keratoplasty, and best practices for keratoconus treatment.
Enjoy a taste of the 2022 ASCRS Cornea Day program to the right, "The Role of Artificial Intelligence (AI) in the World of Corneal Ectasia" presented by Marcony R. Santhiago, MD, PhD.
Use the link below to access 2022 Cornea Day On Demand (2022 Subspecailty Day registrants only).
View 2022 Cornea Day On Demand
In-Depth Cornea Courses
Courses are 90-minute instructional sessions that include Q&A time and interactive discussion among the instructors and audience.
All ASCRS members may enjoy these four in-depth cornea courses.
Browse all 2021 Instructional Courses